Snorkeling FAQ
December 15, 2015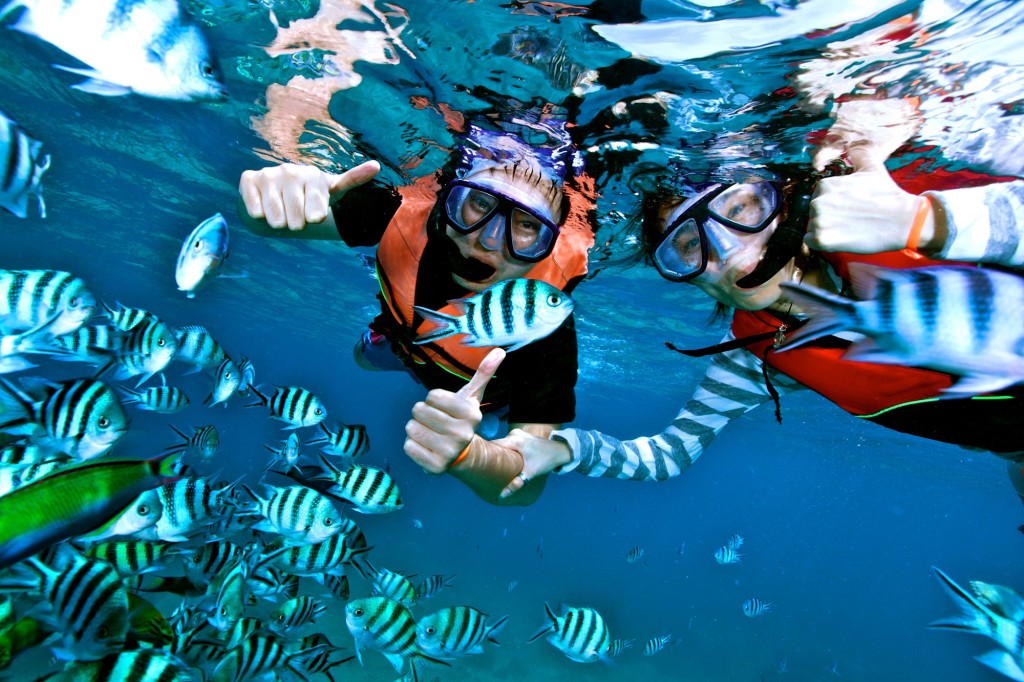 Snorkeling is an exciting activity for all ages! Isla Mujeres has several great locations, but I have had a hard time finding information about the best spots and what you can see! So, here are a lists of common questions and answers, and also some tips on my favorite spots! I hope they help!
Where should I go to snorkel?
There are several locations around Isla Mujeres, but some of the best are only a short boat ride away! The most popular are the Underwater Museum (MUSA) and Manchones Reef. These require taking a boat to the southern end of the island. The boat ride is about 10 minutes. The museum has a depth of 8.5 meters or about 29 feet. Manchones Reef is 9 meters or about 30 feet. These locations usually have great visibility and calm conditions. You can find more information on the sites here. Another great spot is the El Farito Lighthouse. It is only a 2 minute boat ride away from the docks in downtown, and is a more shallow site. This site has a maximum depth of 2 meters or 6 feet. It is great for beginners and children; however, a basic swimming skills base is recommended.
Do I have to take a boat or can I snorkel from the beach?
Most of the best locations for snorkeling are accessible boat only; however, there are a few that are accessible from shore. Garrafon de Castilla is a beach club location in the southern part of the island. It has a fee of $60 MXN pesos to access their club and fins, masks, and snorkels can be rented on site. There is a small restaurant and beach chairs available. The beach itself is not the best on Isla, but the location is pretty. There are normally several fish close to shore because the location provides fish food for a small fee, and there are some sections with reef. It is a great place for beginners and children. Be sure to stay within the swim buoys as the water outside them is a boat traffic lane. Another location is Garrafon Park. This is a full service, all inclusive beach club. They have a snorkeling area, zip lining, swimming pool, full restaurant, and bars. The fee for this park is usually around $75-$100 USD per person. They also run specials on occasion so check out their site for more details.
What is included with the boat snorkeling tours?
If you reserve a space on a tour from downtown with a boat you will get snorkel equipment (mask, snorkel, fins, and life vest) and water. Some companies offer tours for a higher price that include a stop at a beach lunch location; however, only the food is included so be sure to bring some cash to purchase drinks.
How much are the tours?
This depends on which tour you book. The quick snorkeling tours to the lighthouse usually cost $300 pesos or about $20 USD per person. The Underwater Museum and Manchones Reef tour are usually around $400 pesos or $25 USD per person, and the long tour that includes all three locations and lunch is $650 pesos or $40 USD per person. These prices also vary a little depending on the season. You may find a lower price during low season (September-October)!
Can I see the Underwater Museum from the surface?
Yes, the underwater museum is only about 8 meters or 28 feet down and the visibility in this location is great 99% of the time. The statues are large as well and come up about 6-10 feet off of the sea floor. There are a couple times out of the year where the water turns green and the visibility is not as good, so make sure to ask beforehand.
How long will the tour last?
There are one hour tours available to the shallow reef close to downtown (El Farito). The tours to the Underwater Museum and Manchones Reef usually last about an hour and a half, and the tours that include lunch are around two to three hours.
Should I bring sunscreen?
Yes, sunscreen is recommended, but only biodegradable and reef friendly please! Regular sunscreen is extremely toxic to corals!
What are the best spots?
My favorite snorkeling spots are Manchones Reef and El Farito Lighthouse! There are beautiful corals and lots of fish!
Are there good reef snorkeling spots at Playa Norte?
Not really. Playa Norte is rated as the best beach in Mexico and one of the top 20 beaches in the whole world! That is because of the soft sand and beautiful clear water! This location is perfect for swimming and snorkeling for fun, but there are no reefs here. You may come across the occasional ray, starfish, or grunt fish though! It is also recommended that you not swim outside the safety buoys. There is a lot of boat and jet ski traffic in this area.
If you swim around to the Mia Reef area there is a spot where many people go to snorkel just to the right of the pier. Just inside the rocks there are usually small schools of fish and the occasional sting ray. I have also heard that people have seen octopus and crabs there! Just be sure to not go to the other side (the Caribbean side) of the rocks. Stay on the side that is closest to the beach. There are strong currents and normally large waves on the other side.
I hope that these answer your questions! If there is something I have missed or you have any other questions please feel free to leave a comment below and I will answer to the best of my abilities as soon as possible!