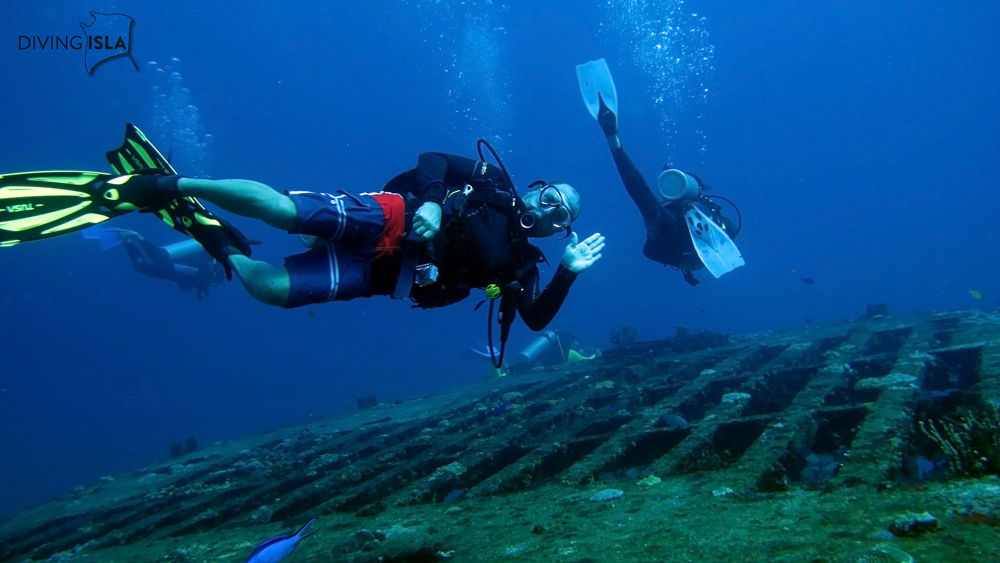 There are several shipwrecks here in Isla Mujeres, but there are two that really stand out! The C-55 and C-58. They are located just off the coast of Cancun, about a 25 minute boat ride away from Isla Mujeres. I have found myself day dreaming about these wrecks lately so I decided to expand on why they are my top wreck sites!
These two wrecks were intentionally placed on the sea floor by the Mexican government to create artificial reefs. The C-58 lies at 82 feet (25 meters), and the C-55 lies at 75 feet (22 meters). The bottom surrounding both ships is beautiful white sand, the water temperature in these locations is usually between 79ºF (26ºC) to 83ºF (28ºC), and the visibility is usually around 80-100 feet (24-30 meters). The level of diving is Advanced Open Water or higher. There is a very strong current here year round, and these are both considered deep dives.
The ARM General Pedro Maria Anaya C-58 has a few names here on Isla Mujeres, and some conflicting information as to which ship it actually is as well. Most commonly, it is known as the C-58 Anaya or the Gunboat C-58, but from what I understand it was originally a minesweeper. I have tried to do more research about this boat, but it seems to be extremely limited. So, if anyone can find some correct information regarding this ship, I would greatly appreciate it! I do know that she was constructed just before WWII and was a US Navy ship, and that she was actually used during WWII. She was later sold to the Mexican Navy, and they used her for as long as they could and then sunk her around 2000. The dates are also quite conflicting, ranging between 1987 to 2000, so I am basing this date off of what local old school divers tell me here! I decided that they probably know best, since they were some of the first to dive on this wreck.
This is a fantastic wreck year round, but my favorite months are from December through February. Migrating Spotted Eagle Rays come in, and you can see anywhere from 50 to 100 flying around and above the wreck and playing in the current. I have so many videos and photos of these beautiful creatures! They are one of my favorites and I literally could just hover around this ship and watch them for hours (if only I were allowed to stay down that long!)!
Other than the Spotted Eagle Rays, I have seen many huge Midnight Parrotfish, Barracuda, Lobster, Grouper, Hogfish, and Sea Turtles. Every once in a while I will see the occasional Nurse Shark. During one dive I saw a very large Bull Shark. Unfortunately that was just a one time occurrence. I guess I was just lucky that day! The wreck is also home to Green Moray Eels, Octopus, schools of Grunts and Jacks, and covered in Corals and Sponges.
In 2005, Hurricane Wilma split the ship into two sections. The stern, or back half, of the ship has a descent line and is the main section I dive. With proper certification divers are allowed to penetrate this wreck. It has a very open stern section, and there are large schools of Grunts that live inside. There are several rooms that can be explored as well for Wreck Specialty divers, and even a bathroom with toilets! The second section of the ship is located about 300 feet (100 meters) away, and if the current is right, it is an easy 4-5 minute swim. This part of the ship is the bow and there is no penetration here. This section is laying on its side and is also a great spot for seeing the Spotted Eagle Rays. Not many people visit the second half, so I really like going to this section to see all the life around it. My normal dive time for this wreck is around 25-30 minutes, including the 3 minute safety stop.
The ARM Teniente Juan de la Barrera C-55 is located at 75 feet (22 meters) and was sunk in 1999. It is also a great location to see Spotted Eagle Rays! The white sand makes even GoPro videos look great! This ship was completely dismantled and torn apart by Hurricane Wilma in 2005, so the only penetration is the stern section. This piece has a descent line attached, and is home to schools of Grunts, Parrotfish, Grouper, Green Moray Eels, Nurse Sharks, Jacks, small crustaceans, corals, and sponges. Pieces of the engine are also exposed on the sea floor and the bow is located close by. I really like the bow section for photography. There are tiny windows along the side and if you hover just in front of the bow you can get some really nice shots of the ship! My normal dive time for this site is around 30-35 minutes, including the 3 minutes safety stop.
There are a few other wrecks in Isla Mujeres that are worthwhile to visit, but these two are the best in my opinion. They are perfect for the PADI Advanced Open Water Diver Course, as well as PADI Specialty Courses! They are also just great spots to do some fun deep dives and enjoy these artificial reefs! The Spotted Eagle Rays are by far my favorite sea animal to see while diving this area, and it is really unbelievable how many there are at these shipwrecks. I have seen over 100 at a time swim right in front of my face in a huge school! If only I could take a camera with me on every dive!
Here is a short video of the amazing Spotted Eagle Rays at the C-55!
If you have any questions regarding these dive sites, or any questions regarding the
PADI
courses listed, please leave a comment below or contact me at info@divingisla.com or through
facebook
!
Cheers and Happy Diving!