Whale Sharks are known as the largest and most amiable fish in the ocean! These gentle giants can grow to be 12 meters or 40 feet long, weigh 11 tons, and live up to 70 years. They are filter feeders and feed almost solely on plankton, so they are completely harmless to humans. Here in Isla Mujeres, Mexico we are extremely lucky to have one of the largest annual aggregations of these beautiful fish during the summer months.
Summer is one of my favorite times of year. The weather is warm, the water is generally calm with glass like conditions, and the whale sharks, mantas, and sea turtles come from the different corners of the world to grace us with their presence. The turtles come to mate off the southern tip of Isla, and then lay their eggs all along the eastern shores of the island. If you are a diver, the Punta Sur drift dive is a do not miss during the summer! The Whale Sharks and Manta Rays migrate here around this time of year as well, and then they stick around for as long as the plankton lasts!
A Little history
Fisherman have known that these Whale Sharks were here for years, and they called them "domino" for their black and white coloring. CONANP (Comisión Nacional de Áreas Naturales Protegidas) started teaching fish identification courses to locals about 10-12 years ago and some say that is when they started calling the Whale Shark by its name instead of using the term "domino." The fisherman would see these giants in the open ocean while out fishing, and as they pulled their nets back in, they would notice that their nets were torn and had holes in them. These were the first encounters with whale sharks here in Quintana Roo. The fisherman were afraid of these huge fish so they did not retaliate against them. However, a few fisherman sought out information regarding the whale shark and realized that they were harmless filter feeders, so they started taking people to swim and snorkel with them. This was about 15 or so years ago, and thus began the first whale shark tours in Quintana Roo.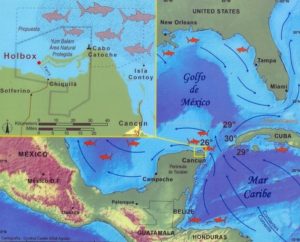 The location
The whale shark tours generally begin between May 15th to June 1st, and run until mid September each year.  These tours are governed by CONANP and Semarnat and are conducted in La Reserva de la Biosfera Tiburón Ballena (The Whale Shark Biosphere Reserve) out in the open ocean close to Isla Mujeres and Isla Holbox. Each year permits are given out to boats, captains, and guides so that they can take visitors out to snorkel with these gentle giants. These permits allow for 10 snorkelers aboard each boat, along with a captain, and guide.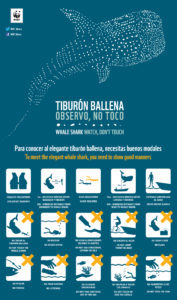 The Rules
There are tour companies from Playa del Carmen, Cancun, Isla Mujeres, and Holbox, not to mention all of the vendors from around the world who sell these excursions; however, only a select few people, around 260-300 boats, have the permits allowed to enter this biosphere reserve. Even with limited permits there are still a large number of boats in this area. The rules state that boats need to keep a distance of 10 meters/33 feet away from the animals, and snorkelers must keep a distance of 5 meters/16 feet away. Each guide is permitted into the water with two snorkelers at a time. You are allowed to swim alongside the whale shark while wearing a life vest and are to avoid all touching, as well as cutting in front of them. Some other important rules are no sunscreen, lotion, or oils, no littering, no flash photography, no uncontrolled jumping from the boat (meaning you must enter the water in a controlled manner), no feeding of any animals, and no fishing.  One of the most important things to remember is the sharks are swimming along the surface of the water eating, so the key is to avoid disturbing them so that they will stick around.
Whale Shark Tours With Dive Life
We will have daily Whale Shark tours available at Dive Life Isla Mujeres beginning June 1, 2016. Everyone will meet at the shop at 8:00 AM and there will be coffee, fruit or snacks available, then your guide will prepare all necessary equipment and give a briefing regarding the rules of the excursion. Once the briefing is completed and everyone has their gear, we will take a short walk to the Contoy Pier (just down our street), and we will be on our way! The ride out to the site usually takes an hour, but in the beginning of the season and towards the end of the season it can be longer. Sometimes taking a couple of hours to find them.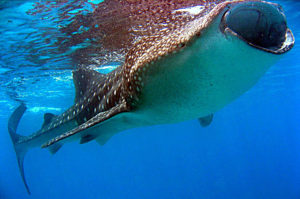 Once we have located the whale sharks, you will be permitted to snorkel with the sharks while wearing your life vest. Wet suits will be available for rent upon request, but are not required. There will be two people permitted to enter the water with the certified guide, and the swim time depends on what the shark does, as well as, how tired everyone gets while swimming. After everyone has had the time of their life swimming with the whale sharks (normally 2-2.5 hours), the boat will head back to Isla Mujeres for a stop at Playa Norte (North Beach). The captain and guide will serve fresh sandwiches, and they will prepare fresh ceviche. Beers, sodas, and waters will be available as well. After everyone has had enough time swimming and relaxing in the clear waters of Playa Norte, the boat will return back to the dock in downtown Isla Mujeres.
The tour includes:
Coffee (morning), bottled waters, sodas, beer
Fruit or muffins
Sandwiches
Fresh Ceviche
Snorkel, Mask, and Fins
Life Jacket
National Park Bracelet for the Whale Shark Biosphere Reserve Area
Bilingual guide 
Don't forget to bring:
Rash guard or long sleeve shirt (for sun protection)
A hat
Seasickness medication (The ocean is not always calm, and we will be going out into open seas)
Dry clothes or a towel for the return trip
Restrictions:
Pregnant women
Children under 5 years of age
Medical conditions that do not allow for cardiovascular exercise (snorkeling can be strenuous)
People with back problems (because of the movement of the boat, it can be painful to people with previous back injuries)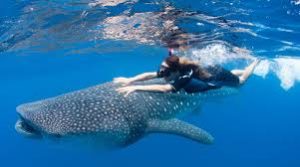 Last year there was a 99% success rate on Whale Shark sightings in Isla Mujeres, and not only do we have the pleasure of seeing Whale Sharks, but we also frequently see Manta Rays, Sea Turtles, Pelagic fish species, and Dolphins. This is an exciting, once in a lifetime experience that we are lucky enough to have during the summer months, and it is my personal favorite snorkeling excursion on Isla Mujeres! I am very excited about June 1st, and I look forward to meeting lots of new friends and hearing all about your whale shark encounter stories!
If you have more questions regarding our whale shark tours please visit my FAQ Whale Shark page! If you would like to reserve a space for this season, please contact me here, or send an email to isla@divelife.mx.