Whale Shark FAQ
November 14, 2012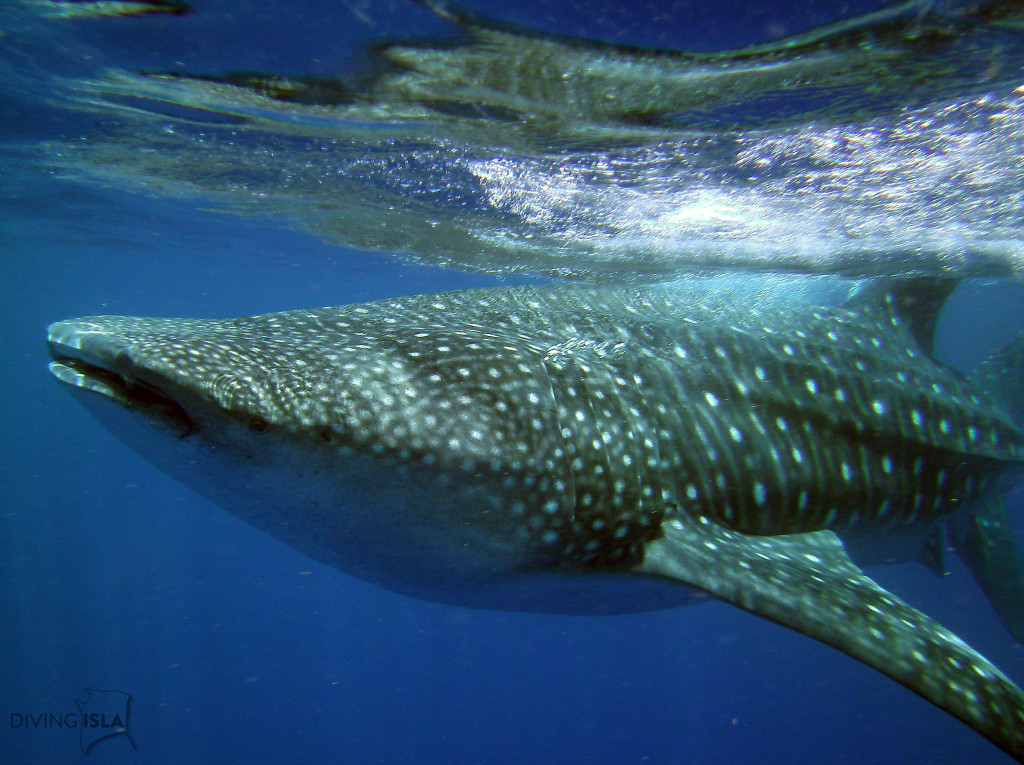 Whale Shark season is my favorite time of year in Isla Mujeres! I absolutely love snorkeling with these gentle giants! It has become insanely popular over the past few years, and people always want to know more about the tours and these huge fish, so I put together a few questions and answers! I hope they help!
When is whale shark season?
Whale Shark season is from mid May until mid September. This year we will be starting on June 1, 2016.
What is a Whale Shark?
The whale shark (Rhincodon typus) is a slow-moving filter feeding shark and the largest known extant fish species. The largest confirmed individual had a length of 12.65 m (41.5 ft) and a weight of about 21.5 t (47,000 lb). The whale shark holds many records for sheer size in the animal kingdom, most notably being by far the largest living nonmammalian vertebrate.
The whale shark is found in open waters of the tropical oceans and is rarely found in water below 22 °C (72 °F). Lifespan is said to be around 70 years, but it is difficult to determine accurately based on a lack of scientific evidence. Whale sharks have very large mouths and are filter feeders, which is a feeding mode that occurs in only two other sharks, the megamouth shark and the basking shark. They feed mainly on plankton and are generally considered harmless to humans. Source: Wikipedia
Can I dive with the whale sharks?
There is no diving allowed with Whale Sharks in this area of Mexico. You are allowed to snorkel with them from permitted boats with specially licensed captains and guides.
How many people are allowed in one group?
A ten person permit is the maximum allowable. This includes everyone but the captain, and guide.
How many Whale Sharks do you usually see?
In the beginning of the season we normally see 5-10 whale sharks, then in the mid months we see anywhere from 20-50, sometimes more, and at the end of the season it goes back down to 5-10 whale sharks per trip. Keep in mind that this is a wild animal and there are no guarantees of seeing them; however, our success rate last year was 100%
Can I touch the whale sharks?
Whale Sharks are a protected species and current regulations do not allow snorkelers to touch the whale sharks. This tour is designed to protect the Whale Sharks and the participants. Specific rules state that snorkelers may not come within 5 meters/16 feet of the sharks. Any charter companies saying they will allow you to break the rules should be avoided. 
How often do you not encounter the Whale Sharks?
The density of the Whale Sharks in Isla Mujeres almost guarantees you will encounter at least one. Last year there was a 99% accuracy rate. I am really hoping this year will be the same!
What is the cost?
Our tour price is $125 USD. We will also be offering VIP Whale Shark Excursions which include an earlier departure, longer whale shark swim times, premium drinks and food upgrades, as well as different options of things to do after the whale shark snorkeling.
Can you book private tours?
Yes, private tours can be booked a minimum of 5 days in advance at an additional cost. The rate for a private tour for 1-5 people is $1,400 USD and for 5-10 people $1,600 USD. If you would like more information please feel free to contact me here. I would be happy to help you reserve your trip.
Do Whale Sharks bite?
No. Whale Sharks do not bite and pose no threat to humans. They are filter feeders and are docile creatures.
How far out are the Whale Sharks?
From Isla Mujeres they are approximately an hour to an hour and a half boat ride away. They have been further out on occasion, but usually just at the beginning or end of the season.
What is included in the tour?
Coffee (morning), bottled waters, sodas, beer
Fruit or muffins
Sandwiches
Fresh Ceviche
Snorkel, Mask, and Fins
Life Jacket
National Park Bracelet for the Whale Shark Biosphere Reserve Area
Bilingual guide 
Snorkeling with the Whale Sharks
Relaxing time at Playa Norte
How long will we get to swim with the Whale Sharks?
You will have 2-3 chances to get into the water and swim with the Whale Sharks. Each time will be approximately 15-20 minutes; however, it also depends on how long the Whale Sharks stay at a depth where you can view them and your ability to swim and keep up with them. You will go two at a time with a guide and you must wear a life vest or wetsuit per Mexican Law.
How do I reserve a spot for the Whale Shark tour?
You can contact me here, or send me an email at isla@divelife.mx.
What if my group is larger than ten people?
If your group is larger than ten people we can find you more boats. We will need at least a weeks notice to make sure we can find the right boats to accommodate your group.
Where do we meet for the tour departures?
We will meet at Dive Life in Isla Mujeres at 8:00 AM. We are located under Hotel Isleno on Francisco I. Madero in Local 3.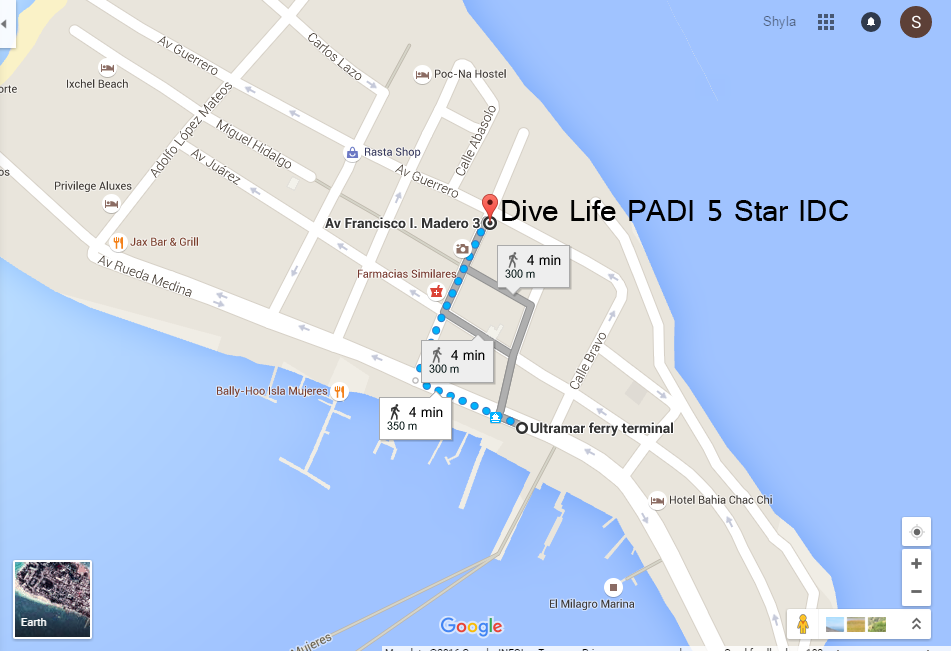 What equipment do I need?
All necessary equipment is included in the price which includes: mask, snorkel, fins, and a life vest. A wetsuit may be rented at an additional price.
Do I have to swim with them or can I stay on the boat?
You are not required to swim with the Whale Sharks on this tour. You may join just for the ride and for photo opportunities from the boat; however, the fee is still the same.
I hope this information was useful! If you have any additional questions please contact me here and I will answer to the best of my abilities!