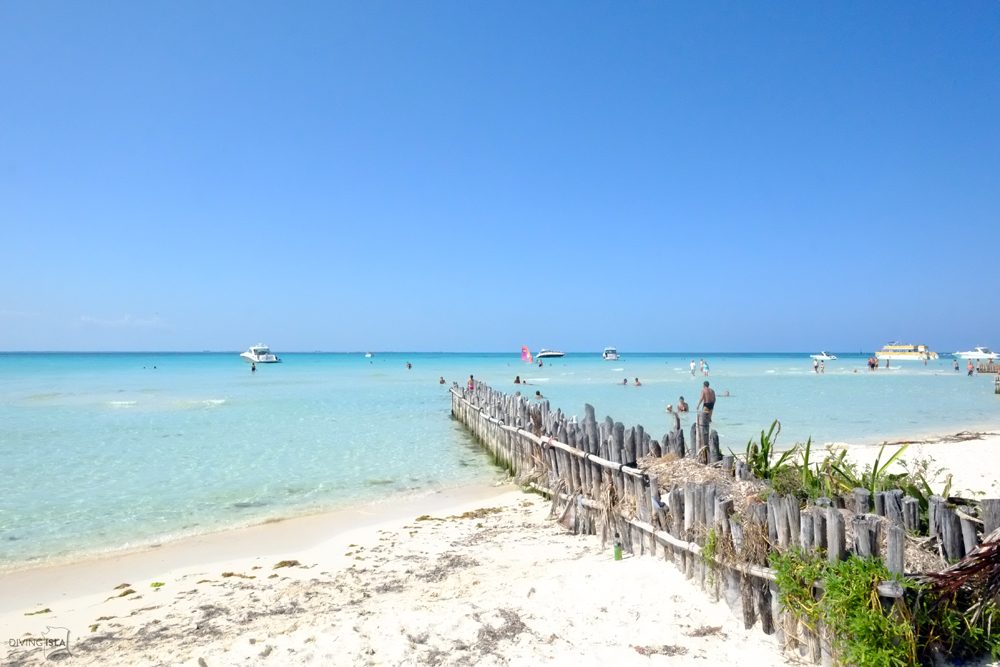 A good friend of mine and I started a new work out regimen which includes swimming around Isla Mujeres' north shore three times a week! During my last swim I started thinking about all of the places there are to swim around Isla, and about the lack of information provided on these swim locations.
We start at Playa Sol where the swimming buoys are located and we swim around to the right all of the way down Playa Norte! We finish when the buoys end at Mia Reef Hotel. Once I finish I like to exit the water at the Fenix Beach Club and Restaurant. Do not exit at Mia Reef. It is a private resort and they can be picky! Fenix has a fresh water shower and they have great lounge beds with waiters. The total length of the swim is about 1.2 km, but you could swim back to your starting point if you were feeling extremely athletic!  It takes us around one hour (with fins, mask, and snorkel) to complete this swim, and it is very safe because there are swim buoys the entire way! The water also has a maximum depth of about 8 feet (2.5 meters) and 99% of the time it is crystal clear! *Tip: right now they are doing construction on the piers on the end corner of Playa Sol. Be careful and go around these, just not too far out. Or walk around them on land. The swim buoys have a small break around these docks, so be careful and stay close to shore to avoid any boats. 
Yesterday we swam just outside the buoys to the Mia Reef Pier and swam around on the inside of the rocks just next to the hotel. The weather was completely calm, then within minutes a north front started coming in and it got quite choppy. This is another reason I do not recommend swimming on the "Caribbean" side of the island. You just never know when the wind will change.
Swimming in Isla Mujeres is a great way to exercise, but you need to be careful and make sure you're swimming within the swim buoys and in the specified areas! There are so many boat traffic lanes running around Isla, and so many boats passing by daily! The local government put up all of these buoys around Playa Norte and Playa Sol, and for me it has been an amazing benefit. Before the boats would come and park almost on the beach at Playa Norte, and they would stir up sand and block off the area where it was deep enough to swim! Not to mention the danger of having boats scattering the beaches shallow waters and children swimming around them! Personally, I love the new swim buoys!
There is a small area marked on the map above close to the rocks next to Mia Reef. This area is nice for some shallow reef snorkeling on calm days and is protected. There are no buoys here and no lifeguards so swim at your own risk. Also, make sure to swim close to the shore and pier on the way out to avoid boat traffic.
There are many areas surrounding Isla Mujeres that are not safe for recreational swimming. They can be very dangerous. There are strong currents around the island and several people have been swept out to sea and then rescued by the Meixcan Navy. I do occasionally swim on what everyone considers the "Caribbean" side of the island; however, I also dive this side of the island and I know the currents and the weather here. There are no lifeguards in this area and there are boats that pass as well, so if you do decide to risk swimming on this side, make sure you have fins and a SMB (surface marker buoy). Also, make sure the weather is extremely calm and you take a buddy. The best option is to avoid swimming here or go on a guided tour. There are several local companies that will take you snorkeling and swimming.
Please, please do not swim at the south end of the island (Punta Sur). The currents here are extremely strong and people have died here. If you are with a certified tour guide it is okay in some areas, but you do not want to swim from shore. Many people take their fins, masks, and snorkels and swim here during Turtle Mating Season (May-July). I have even seen them snorkeling there with pool noodles. This is NOT safe! This site has several currents and on most days waves, not to mention the big jagged rocks everywhere. I'll just put it this way, I only go in the waters around Punta Sur when I am diving and I have a boat to pick me up!
Swimming on what everyone calls the "Cancun" side is normally very safe. Normally there are no currents here and the water is generally quite calm. There are a few swim parks on this side as well! Garrafon park, Garrafon de Castilla, and Parque de los Suenos are a few. These parks all have swim buoys and it is important to swim within them. This side of the island also has a large amount of boat traffic. It is important to not swim too far out because the boats may not see you when they pass.
Other than these listed swim areas it is considered generally safe to swim on the side of the island facing Cancun close to the beach. Just be sure to avoid swimming too far out so that you avoid all boat traffic!
In conclusion, Isla Mujeres has many great swim locations to offer for those who enjoy water workouts! Just be sure you stay within the swim buoys of Playa Sol, Playa Norte, and the water parks! Or, make sure that you swim close to shore in the locations lacking buoys! If you are looking for more water workout tips, or if you have any additional questions please feel free to comment below!
Cheers and happy swimming!