Scuba Diving FAQ
December 15, 2015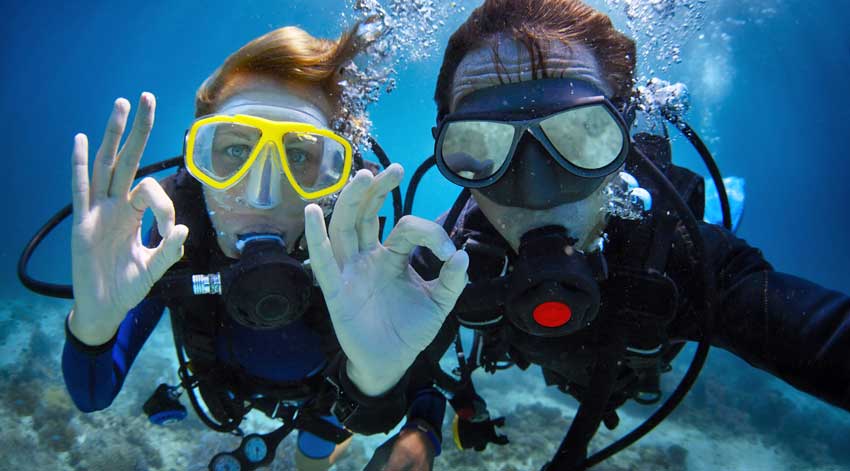 If you are anything like me, when you are scoping out new dive locations, you  google search EVERYTHING! I did that the first time I came to Isla Mujeres, and afterwards discovered that there was a definite lack of information. I had so many questions and no one to answer them! So, this page is your go to page for all questions related to scuba diving in Isla Mujeres! Some of this information also just applies to diving questions in general. Hope it helps!
Do I need to be scuba certified to dive in Isla Mujeres?
No, beginners can dive here too! There are a few very nice reefs that are amazing for beginners. We also have the Underwater Museum which is a perfect site for beginners as well. These reefs are a maximum depth of 10m/33ft, so they are perfect for experienced divers as well as first timers!
Do I have to know how to swim to scuba dive?
Yes, you do not need to be Michael Phelps, but you do need to have an understanding of how to swim.
How much does it cost?
The price of scuba diving will vary depending on your level of certification and where you would like to dive. Most shops charge anywhere from $85-$95 USD for a certified two tank shallow reef dive and $95-$120 USD for a two tank adventure (deep, drift, wreck) dive. Beginner divers should expect to pay $125 USD for a PADI Discover Scuba Diving Experience. The course prices vary as well but you should expect to pay between $375-$425 USD for a PADI Open Water Course, and between $350-$400 USD for a PADI Advanced Open Water Course.
Are dives from the shore or from boats?
There are no dive sites in Isla Mujeres where you can shore dive. All of our dives are boat dives.
What is the minimum age for diving?
The earliest anyone can start diving is 8 years of age. There are PADI courses such as the PADI Bubblemaker Course which are specifically designed for children! They are taught in swimming pools with special child size equipment and small tanks. The minimum age to start diving in the ocean or Open Water is 10 years of age.
Can I dive with contacts or glasses? 
Yes, if you wear contact lenses it is fine for you to dive while wearing them. You just need to make sure that if you get water in your mask you need to keep your eyes closed. If you're worried, bring a spare pair of contact lenses to the pool and ocean dives during your course. If you wear glasses, there are masks that can accommodate prescription lenses that can be fitted to whatever prescription you require. There are no shops on Isla Mujeres that can make a prescription mask so I recommend bringing yours with you from home!
How soon can I fly after diving?
If you are planning on flying, the rule is you must wait 12 hours after diving one tank and 18 hours after diving two tanks. There are no rules about diving after flying, so if you had an early flight you can plan on an afternoon dive!
Do I need to buy/bring my own dive equipment?
Learning to dive is an investment in a skill you will have for the rest of your life – SCUBA diving! Most dive centers in Isla Mujeres will include all of the needed rental equipment for any course you take; however, if you are just looking to do a few reef dives you will need to pay for rental gear (unless you have your own of course). Generally it is not very expensive to rent equipment (on average around $10-$15 USD for a complete set), but it is a great idea to have your own gear! Having equipment that is perfectly suited for your diving needs and perfectly fitted for you is a huge bonus!
How long will my dive certification last?
All PADI certifications are lifetime; however, if you have not been diving in a while it is recommended to take the  PADI ReActivate Program.
Are there multilingual instructors in Isla Mujeres?
There are several. The most common languages are English, Spanish, French, and German. PADI materials are also translated to suit your individual needs!
What is the best dive site?
There are so many dive sites to choose from in Isla Mujeres, but some of my favorites are Manchones Reef 2, the C-58 Shipwreck, and Punta Negra. You can view more information about these locations in the dive sites section of this blog.
How long will the tour last?
Most dive trips last around 3-4 hours. Morning departures usually return around noon and afternoon departures usually return around 4:00 – 5:00 PM. However, if you are short on time you can always opt for a one tank dive. One tank dives normally last around 2 hours. 
What should I bring?
Biodegradable sunscreen is a must! Regular sunscreen is very toxic to reefs, so it is very important to use the organic sunscreens. If you do not have biodegradable sunscreen, there are several shops in Isla Mujeres that sell it, including my shop! Normally water and a small snack are provided on the dive trips, but a bottle of water just in case does not hurt! Towels can be brought as well, but there may not be dry space on board the boat, so they are best left in lockers in the dive shop.
How cold is the water?
The waters surround Isla Mujeres are quite warm year round. Summer temperatures are between 81-84ºF/ 27-28ºC and Winter temperatures are between 77-81ºF/ 25-27ºC. In summer a shortie 3mm wetsuit is recommended, and in winter a long 3mm wetsuit.
Are there sharks?
Unfortunately, there are not very many. Sharks have been over fished in this area, so we are very lucky when we see them. There are Nurse Sharks and the occasional Black Tip Reef Shark. If you are really, really lucky you may catch a Bull Shark on one of the deeper reef dives. However, we do have a lot of Dolphins!
Is scuba diving safe? 
Yes, Diving is an extremely safe recreational activity. Due to the nature of diving, standards and procedures are extremely strict and safety is the number one priority when learning to dive, as well as once you become a certified diver. Make sure to do a full review on any shop or instructor/ divemaster who takes you diving. The easiest way to be safe is to do your research on the shop you choose.
Should I complete a certification course and how long will it take?
If you think diving is something that you will enjoy, then personally, I would recommend taking a diving course. The PADI Scuba Diver Course can be completed in one to two days and afterwards you are certified to scuba dive all over the world! There is also the PADI Open Water Diver course which certifies divers to dive without a PADI professional. This course can be completed in a minimum of 3 days; however, I personally recommend spending at least 4 days on this course.
Should I continue my PADI diver education while in Isla Mujeres?
Isla Mujeres has several great dive locations for continuing your diver education after the Open Water Diver Course. There are a variety of deep dives, wreck dives, and drift dives that are perfect for the PADI Advanced Open Water Course! Not to mention the night dives here are FANTASTIC! The PADI Rescue Diver Course normally takes a minimum of 4-5 days and is a huge benefit to any diver! If you are looking to go pro, the PADI Divemaster Course and the PADI Instructor Development Course are also taught on Isla Mujeres at my store, Dive Life Isla Mujeres.

If you have any additional questions please feel free to contact me and I will be happy to answer your questions to the best of my abilities! Hope these helped!