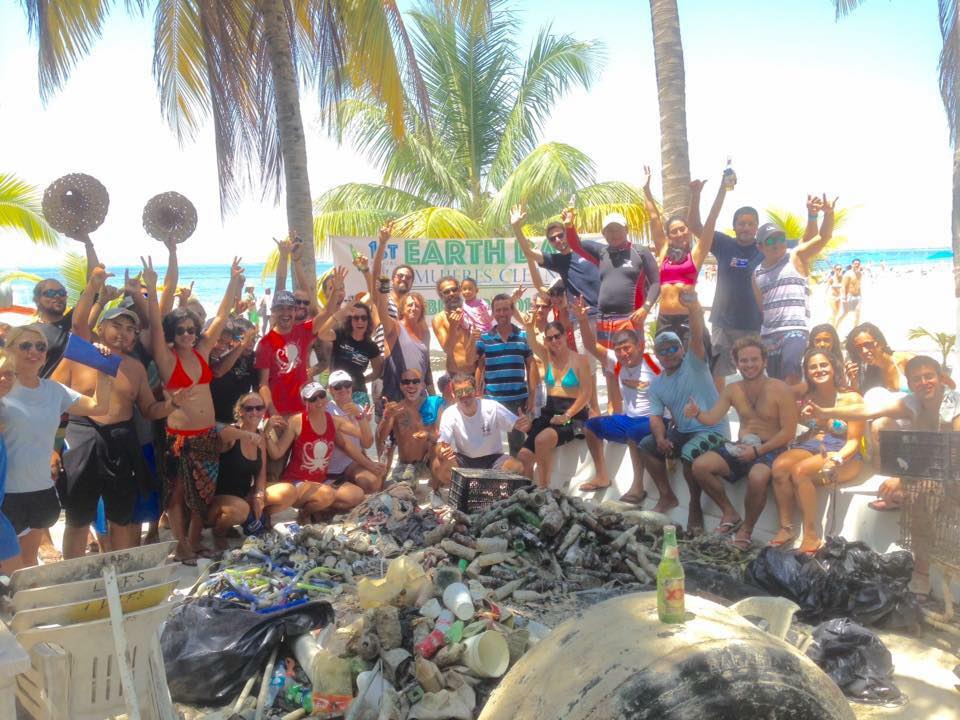 This past Earth Day, April 22, 2016, divers, snorkelers, and volunteers from Isla Mujeres joined forces to assist in the 1st Annual Earth Day Isla Mujeres Cleanup Event. This event consisted of over 60 volunteers and trash was collected under docks on the northern end of the island as well as the Malecon Boardwalk.
The idea for an Earth Day clean up came up one day over a girls dinner at Bobo's Grill and Bar when Sydney Adams mentioned to Kai and I that Earth Day was coming up in a month or so, and we should do something for it as a group. It was a genius idea and Kai, Lalo, and I decided to take some action and get to work! We wanted the entire community to join in and did not want our event to be about one particular dive center or business so we decided to create Action for Isla.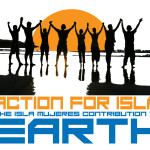 Action for Isla is a platform for the organization and planning of charitable events created with the intention of hosting many more charitable events for Isla Mujeres in the future. We noticed that there are many people who love and genuinely care about the well being of Isla Mujeres as a community, and getting permission from local authorities is not always easy due to language barriers, scheduling, and just not knowing who to speak to in the first place. Kai spent several weeks going to all of the local government offices here in Isla Mujeres, and has established invaluable contacts with local authorities. These contacts are very happy about Action for Isla and have said they will be willing to help in events and are proud to have people taking action and influencing the island in a positive manner. Our hope is that in the future people will contact us to help with charity projects, and in turn we can help them by establishing the correct contacts and working through the correct channels to get the support needed to make future charity events the best they can be.
Action for Isla sponsored it's first event this past Earth Day. On April 22, 2016 there were several volunteers who joined together to help clean up Isla Mujeres. There were 14 scuba divers, 15 snorkelers, and 32 land volunteers.

The divers dove under the docks from the Adolfo Lopez dock (next to the Magana Ferry) up to the Velazquez Restaurant dock on Playa Sol. The dive time established by the port captain (Capitania de Puerto) was from 8:00 AM to 10:30 AM. Each dive team was sent to a dock and instructed to clean as much as possible from below the docks and in between each one, with the exception of the Mininos Dock. A clean up team from Poc Na Dive Center cleaned that location. The teams consisted of a PADI Divemaster or PADI Instructor and two to three divers, two to three safety snorkelers, one to two people as boat spotters and trash collectors on the docks, and two dinghy spotters that were volunteers from local sailboats. Capitania de Puerto was also there patrolling on a dinghy making sure no boats came in too quickly. They also were kind enough to announce on the radio that morning that we were having a clean up event for additional safety.
The Red Cross Ambulance was notified and on location for emergency assistance, as well as two doctors. The hyperbaric chambers were notified of the event and oxygen kits were on hand.
All of the trash from the ocean was sorted and weighed at the event headquarters just next to Playa Sol.  We used a recycled trampoline mat to make sure the small bits of trash did not end up buried in the sand. Some of the more interesting items pulled from the ocean were a shopping cart, huge tires, a speaker, and several snorkels!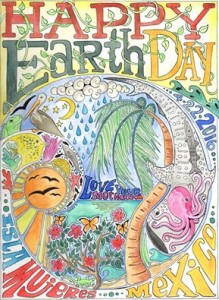 Once all of the ocean trash was sorted and weighed, we also weighed all of the trash that was collected from the Malecon. There was over 100 kilograms of trash collected from the Malecon in just three hours, and the most impressive part is that it was done by only 6 people. Sydney Adams, a local artist here in Isla Mujeres, was in charge of the Malecon collection, and she and her team did an amazing job! Sydney also donated 4 hand painted Earth Day Isla Mujeres commemorative post cards to the raffle. If anyone is interested in purchasing one she still has some for sale and all proceeds will be donated to the national park.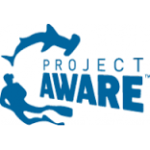 We have reported all of our data to Project Aware (Aquatic World Awareness Responsibility and Education), which is the non profit association created by PADI, and they will use this data to further their research regarding marine debris. We decided to do a Dive Against Debris event, and thanks to Project Aware, we had all of the resources needed to properly and safely complete the study. Project Aware provides anyone who wishes to complete a Dive Against Debris event with resources such as a planning check list, a PowerPoint presentation guide for divers and snorkelers, Liability forms, and a simple and easy to use reporting form to fill in all of the data gathered. They also have advertising posters and banners available free of charge.
The main reason we completed this clean up was to get trash out of the ocean, but the second reason was to raise money for the National Park in between Isla Mujeres and Cancun. We are missing several buoys that are important to keep boats from dropping anchors, and also to keep student divers safe during courses. These buoys are quite expensive and the national park does not have the funding to purchase new ones. Action for Isla hosted a charity raffle with prizes from several local community business, and also sold T-shirts that were sponsored by a local business. Dive Life, Sea Hawk Divers, Aqua Adventures Eco Divers, Squalo Adventures, and Ixchel Divers also sponsored the event by providing staff, dive equipment, tanks, and snorkeling gear.
Some of the prizes for the raffle were a golf cart rental, one night free at a hostel, restaurant gift certificates, bikini store gift certificates, free churros, free dive equipment from various dive retailers, and many more! The total amount raised during the sales of the raffle tickets and t shirts was $6,200 pesos! We will be donating a portion to Project Aware and then a portion to Amigos de Isla Contoy who will purchase buoys for the National Park.
Thi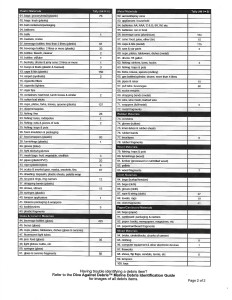 s event was featured in several newspapers here in Quintana Roo, the Que Quintana Roo se Entere, Por Esto Quintana Roo, El Diario de Quintana Roo, as well as, Isla Mujeres al Dia, and TV Isla Mujeres. It was also photographed by Ran Mor and Danielle Mor who are a professional underwater photography team living in Isla Mujeres. We are so thankful that they could participate and will be forever grateful for all of the amazing photos they took!
Everyone collected 670 kilograms of trash in total. 571 kilograms was collected from under the docks alone. Some of the more substantial items were a shopping cart, a plastic chair, a huge truck tire, 425 glass bottles, 154 aluminum cans, 150 plastic caps and lids, 137 plastic spoons, forks and cups, 87 snorkels, as well as 27 pieces of rope and string.
This event ended up being so much more than Kai, Lalo or I had imagined and we will be eternally grateful for all of those who helped and made it so successful. We would like to thank all of our divers, snorkelers, and land volunteers, as well as the businesses who helped make the raffle such a huge success! We also would like to give a big shout out to Lalo Meraz for all of our logo, banner, and t-shirt design work! He worked tirelessly and under some serious pressure to get the designs out quickly! You did an amazing job Lalo! And last, but not least, we would like to give a big thanks to Isla 33 for generously donating all of the T-shirts, to Steve and Lindell Lehrer for donating banners, gloves, water, raffle tickets, and sandwiches, and finally to Michael and Greta Creamer-Shorey for donating gloves, paper cups, vehicles, plastic bags, and their time!
Great job to everyone and thank you all so much for your help! You guys rock!
Let's get to work on the next event!