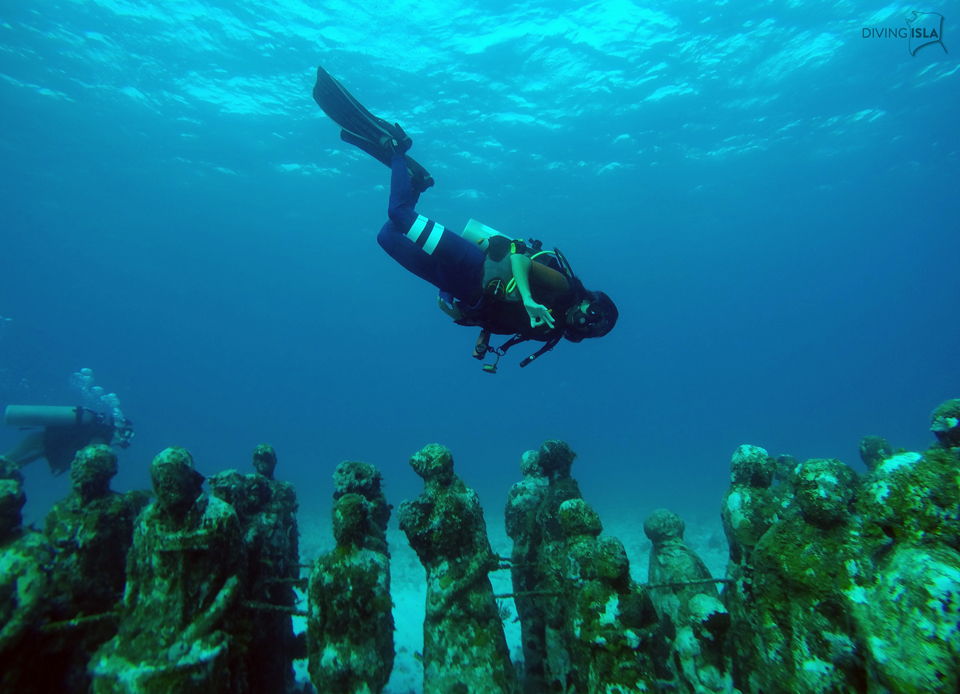 During my very first trip to Isla Mujeres one of the things I was most excited about was the Underwater Museum or MUSA. This is a series of pH neutral concrete statues that were placed on the ocean floor to create an artificial reef, and they have become a major diving and snorkeling attraction to this area!
MUSA or Museo Subacuático de Arte was placed just off the southern shores of Isla Mujeres in 2009. There is also a second location just off of Punta Nizuc in Cancun. This project was started by Jaime Gonzalez Cano, who is the Director of the National Marine Park, Roberto Diaz Abraham, the then President of the Cancun Nautical Association, and an English sculptor named Jason deCaires Taylor. There are also other sculptures by artists Karen Salinas Martinez, Salvador Quiroz Ennis, Roberto Diaz Abraham, and Rodrigo Quiñones Reyes.
They came together in an effort to "…demonstrate the interaction between art and environmental science and form part of a complex reef structure for marine life to colonize and inhabit whilst increasing biomass on a grand scale" (www.musacancun.org). The park is divided into two main sections, the first being close to Isla Mujeres, Salon Manchones, and the second is located close to Cancun, Salon Nizuc. There have been over 500 life size sculptures placed in these two locations, with the majority located in Salon Manchones.
The National Marine Park reports that we have over 750,000 visitors a year to our reefs, and this sculpture park was placed here in an effort to divert some of the traffic away from the Manchones Reefs. The area occupies 420 square meters or approximately 4,500 square feet! It is huge!
I have personally dove this site around 800 times, and each time I still find new treasures! It is one of my favorite sites for teaching and for photography. The depth of only 29 feet (8.5 meters) is perfect for new divers, and the bottom is beautiful white sand which reflects light really well for photos. There are also buoys that are placed by the national park so that boats do not use anchors, and they are perfect for descents with beginner divers. Safety first!
When I dive this location I really like to start at a section called Urban Reef (or here in Isla we call it Las Casitas). It is a section with four statues by Jason de Cairnes Taylor and two by Karen Salinas Martinez. There are two houses (Urban Reef) and two bomb statues (Time Bomb, and Mine Bomb), and two circular statues (Seascape I, Seascape II) by Karen Salinas Martinez.
From this section there is about a five minute swim to the main section of the museum. This is where you find Evolution 2, Silent Evolution, and a new model Volkswagen Beetle. Evolution 2 is a grouping of 50 statues of people, and Silent Evolution is a grouping of 200! These statues were created from molds of actual models. Taylor covered each model in plaster and then made a silicone mold. From the mold he made the concrete structures which are made from marine grade concrete so that they can withstand the harsh ocean environment. All of the statues are anchored to the ocean floor and are built to withstand a category 4 hurricane. Many of the statues now house marine animals and almost all of them are covered in corals, sponges, alga, and grasses.
To the north of this section there are statues by Rodrigo Quiñones Reyes. This grouping is called Bio Mapa. They look like tiny little pagoda houses now, but when they were originally placed they looked like a world map from above. Normally I find a resident Green Moray Eel here and lots of different types of crabs!
Just to the west of silent evolution you will find a second Volkswagen by Jason de Cairnes Taylor called Anthropocene. There are several sea urchins that live in this statue and lots of lobsters below! Then just to the west of that, you will find a statue of a turtle shape called Bacab (not pictured) by Salvador Quiroz Ennis. It literally took me two months to figure out it was a turtle due to the fact that from below it just looks like big brick piles; however, from above it is awesome!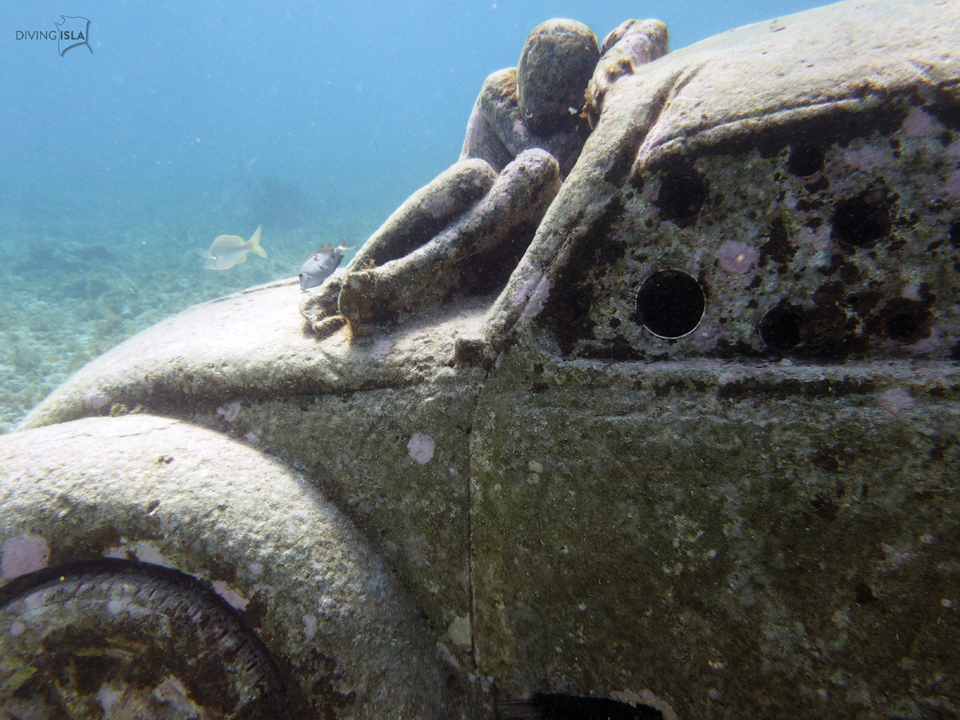 If you keep going to the west from this you run into Manchones Reef 1 where you will find two other statues. Both are two of my favorites. One is called Man on Fire and the other is called The Dream Collector.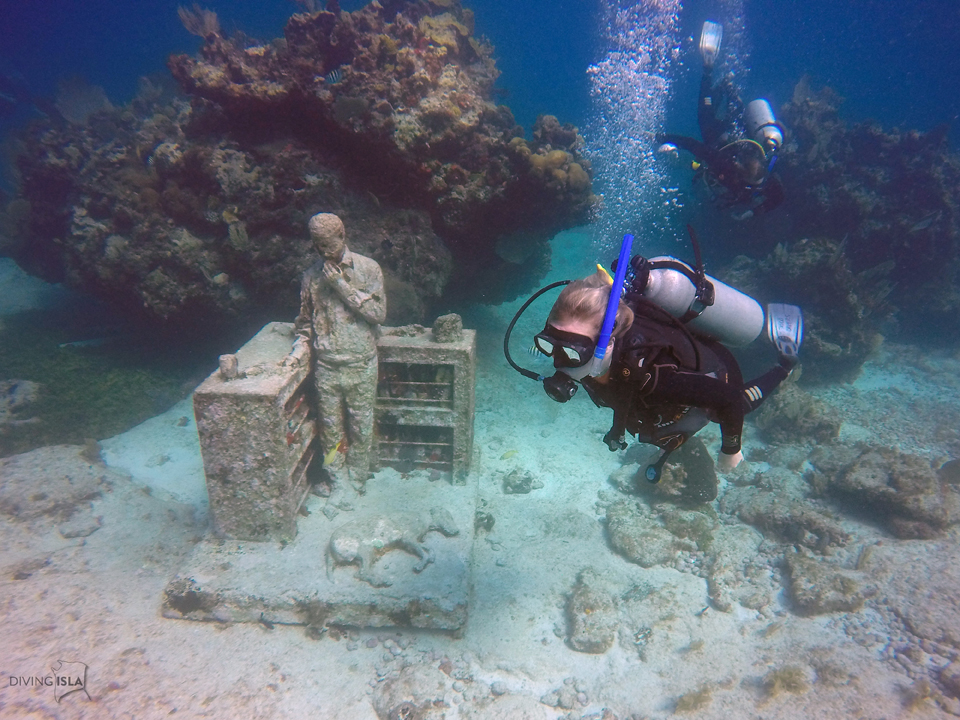 These two statues are hidden in between sections of reef. Man on Fire made my first night dive in Isla Mujeres quite interesting! Nothing like coming up on a face in the water at night when you are not expecting it!
For anyone who does not want to dive around the Museum, there are also daily snorkeling tours. The calm shallow water makes for the perfect location to view the statues. *Tip: be sure to check the weather beforehand. It is normally calm and the visibility is usually amazing, but weather can happen so be sure to check the wind before heading out. It is no fun snorkeling in big waves!
Overall, this location ranks in my top ten best dive sites! I have so much fun diving here and I feel really lucky that this is a site I get to see so often! If you are coming to Isla Mujeres or Cancun this is a must see sight for any adventurous water lover! If you have any additional questions or you would like some information about who to book with or tour information please comment below or send an email to info@divingisla.com!
Thanks for stopping by and happy diving!
** Please remember when visiting this location, or any underwater site, that we are just visitors! We want to do our best not to disturb our underwater friends so no touching! Even the concrete! Thank you!**
***I do not have much information on Punta Nizuc because I have not been there yet. I do know it is snorkeling only, and it is even more shallow than Salon Manchones. I will update this post as soon as I make it over to see it!***