It's been an exciting couple of months here on Isla Mujeres. I have been working on a project that has been a goal of mine for years now, and I am so happy to announce it has finally happened! I have opened a PADI 5 Star Dive Center and IDC in Isla Mujeres with the help our dear friends Francisco Davids and his wife Natalia, and their company Dive Life.
Over the past few months, Lalo and I have been busy scouting locations, setting up meetings, completing paperwork, constructing walls, and finally getting to dive, so I have not had much time to work on this blog. My sincerest apologies for slacking! I was just so excited about this new venture, that I couldn't think of anything else to write about until we had the shop finished!
Now that all permits are in place and our PADI approval is finalized, I thought I would share a little about our process and how this amazing venture came about!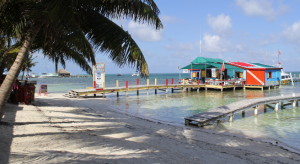 Owning a dive center has been a goal I have wanted to reach for years now. It all began when I walked into the dive center in Ambergris Caye, Belize. This shop was located on the beach, over crystal clear water, and the owner and his wife lived on their catamaran at the end of the dock. When I met this couple I literally thought, "What a life! How amazing would it be to live in paradise and get to dive every day!" Of course, at that time in my life, I never in my wildest dreams thought it could ever happen, so I returned home from Belize as a new PADI Open Water Diver and focused on where my next vacation was going to take place.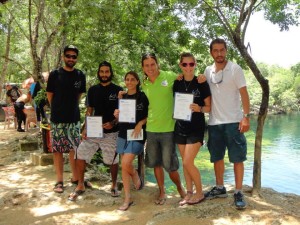 Fast forward three and a half years, and I was starting my divemaster here in Isla. I frequently thought about that shop in Belize, and how cool it would be to have my own shop here. I figured it would take years to get to that point, so I put it in the back of my mind, and went on to the PADI Instructor course. I feel very lucky that I was able to complete my Instructor Development Course with Dive Life Playa del Carmen and Francisco. This was when I realized what a great course director and mentor he was! We stayed friends, and after two years of being an instructor,  I completed my PADI MSDT, and then this past September I completed my IDC Staff Instructor course with Dive Life Playa del Carmen. This time not only just with Francisco, but also with another one of my role models and amazing PADI Course Directors, Jorge Martinez Teran.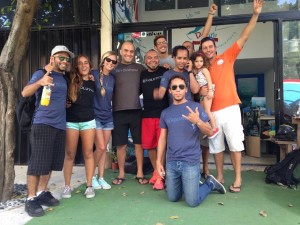 Upon completing the IDC Staff course, I realized that there were no locations around Cancun or Isla where I could assist on any Instructor Developement Courses. This was a big let down for me because I knew that I did not want to leave this amazing island. I seriously considered moving to Playa del Carmen so that I could work as a Staff Instructor, but when I researched it and visited Playa, it just did not feel like home.
One of the reasons I wanted to work as a Staff Instructor is because from the day after I became a PADI Open Water Scuba Instructor, I began planning my route to the PADI Course Director course. It is the ultimate dream of mine, and I am working very hard to fulfill it. I love teaching diving, and I really love teaching Divemaster Trainees and IDC candidates! I am hoping to participate in the Summer 2017 Course Director Course, but that will depend on finances as well. I am crossing my fingers!
After realizing that I did not want to move to Playa, I decided that the best thing for me would be to stay in Isla Mujeres, and to do my own thing. I sat down and toyed with the idea of starting my own shop – pros, cons, will it work, etc., and eventually came to the conclusion that I loved the idea and it would work! (I sincerely hoped)
Once I had numbers worked out (as well as I could at that time anyway), I contacted Francisco and pitched him the idea. He thought it was fantastic and we all came to an agreement and began the business plan together.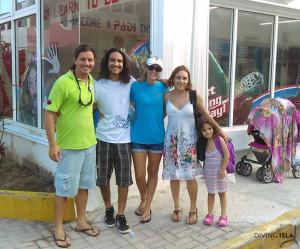 Francisco and his wife Natalia started Dive Life in Mexico City in 2001. They have the cutest story about how they came to live in Mexico, and how they worked for many years together as a team to build their dream. They now own Dive Life Mexico City, Dive Life Playa del Carmen, Dive Life Mahahual, and Dive Life Isla Mujeres.  They have also gained over 7,400 followers on their Facebook page, and have clients from all over the world who come back on a regular basis just to dive with them. Francisco has even had his own TV show! Lalo and I feel extremely blessed and grateful that these two amazing people have given us the opportunity do to what we love, and trusted us as partners in Isla Mujeres.
As soon as I saw the location we chose, I knew it would be perfect. It is light and airy, new and clean, and most important, it is very open and has lots of natural light. We completed the design work ourselves along with some great advice and tips from our friends. We repainted, built walls and closets, and constructed a gear room complete with storage lockers for clients. Completing all of the work inside the shop took us about ten days in total, which on an island is pretty quick! Here is a video of the process!
 Once all of the construction was completed and gear was purchased we set out on our first trip. This trip was with two really good friends who live on Isla Mujeres, and they joined us to go do a shipwreck dive and see some Spotted Eagle Rays.
Our goal for this dive center is to create a dive school in Isla Mujeres. We want to educate everyone who walks in the door in some way or another. We are also very big on ocean conservation, supporting Mexico's National Parks, and 100% love and support Project Aware!
To become a more education based shop, we have decided to offer every single client a Project Aware Specialist or Project Aware Coral Reef Conservation Specialty course free of charge with the purchase of a certified two tank dive*. The only additional cost is the specialty course certification fee from PADI. We decided to offer these specialties because we feel diving is much more fun when you know about the creatures you are seeing, and gaining more knowledge helps you become more active in conservation. These courses do take additional time to complete in addition to the time required for a regular two tank dive, but they are worth it! If you are not a certified diver, but you enjoy snorkeling, or just all things ocean related, you can also take these courses! We are working out times for monthly events to host these courses for a small fee and a portion of all of the proceeds will go to Project Aware. We will also be participating in annual Project Aware Finathons for Shark awareness and hosting several Project Aware Dive Against Debris Events (trash clean ups).
There are several other projects in the works for the community of Isla Mujeres, including free CPR and First Aid courses for locals, as well as decompression risk seminars for local fisherman. These are just a couple of the ideas we have in the works currently (hoping we get all the permission we need), and we also have a few really cool events already planned for the near future, so keep a look out! These events are to benefit Isla Mujeres and it's people, but they are also events available to anyone who would like to join. We do not discriminate. If you are here on the island and we are hosting an event, we are always happy to have more participants or volunteers!
Dive Life Isla Mujeres will also offer opportunities for residents of Isla Mujeres to complete dive internship programs. These programs will include dive training from beginner through instructor and will be available to those who apply and meet the criteria. One thing I noticed while living and working here on the island is the lack of local instructors. I know of only one currently, so our goal is to start training and giving more opportunities to residents of Isla Mujeres to live their dreams. At the moment we will limit these internships to residents, but I hope that some time in the future it will be available to anyone who needs the help and wants to work as a dive professional.
I, along with Francisco and Naty, could not be more pleased about the result of the dive shop. We are so excited to start this journey, and we are all very much looking forward to diving with all of our current friends, and getting to know all of the awesome new friends we will make throughout these adventures! We look forward to spending many, many more years here, and working together with the community of Isla Mujeres to help protect our tiny little island and all of it's natural beauty.
Here are a few shots the very talented Lalo Meraz took of the shop recently for our website! We hope you enjoy them!
We would also like to give special thanks to all of our friends (Lisa, Aaron, Patricia, Rachelle, Emile, Sydney, Lalo R., Kai, Lalo M, Tove, Raul, Mau, Julia, Andres, Vero, Jamal, Sean, Jay, Helen, Mike G., Donna, Jim C., Brian, Bryan, Paco, Tracy, Jim from Eco Divers, Claire, Vlad, Aurelio, Alvaro, Arturo, Gabby, Rhett, Jeff, Kim and Darren, all of the Cooporativa Contoy crew – Kenny, Fili, Quesito, Diego, Pedro, Miguel, and countless others) who have been so supportive throughout this process and all of those who helped us with construction and all other aspects of this project! I would also like to thank all of my Islaholics friends who continue to give me your support! You guys have been amazing! It has not been easy, but we have officially done it and it could not have been possible without the help from each and every one of you! And also a big thanks to our families for being so understanding about our absentmindedness lately. 🙂
now LET'S GO DIVING!
*These courses are part of the PADI curriculum. Space is limited. Please contact us to reserve your spot.